Trump's first 100 days with ABC's RICK KLEIN and SHUSHANNAH WALSHE
Interested in
The Note?
Add The Note as an interest to stay up to date on the latest The Note news, video, and analysis from ABC News.
Day No. 60
The big story: This is it – the start of the week that will define President Trump's early presidency more than any that has yet arrived. There's so much popping at once -- FBI Director James Comey's first public testimony in months; the start of Supreme Court confirmation hearings; health care bill wrangling; very different public standoffs with America's top allies and top judges – that it's tempting to let days like this wash through as if they're typical in the Trump chaos-creation machine. What makes this week different, in part, are the stakes. On the line this week are Trump's own essential credibility, his basic ability to get things done, the word and bond of powerful U.S. allies, and the efficacy of checks and balances. One other thing that sets this week apart: Trump is used to being the star of his own show. Today and for much of this week, though, he'll be seeing others – Comey, Judge Neil Gorsuch, House Speaker Paul Ryan – take the spotlight, and take effective control of his agenda.
The sleeper story: It's one thing to insult the media, or celebrities, or Democrats, or members of Congress, or nations whose intelligence, financial and moral leadership support the United States does not depend on. But as we learned earlier in Trump's presidency when he sparred privately and then publicly with the prime minister of Australia, powerful allies do not earn themselves immunity. Now the president has two more enraged friends to cope with: the British and the Germans. "Absurd," a former British ambassador to the United States wrote, calling it a "dangerous game" and citing "the president's famous reluctance to admit mistakes, and his suspicion of intelligence agencies and their product." As for the president's assertion that Germany owes NATO money, "There is no account where debts are registered with NATO," the German defense minister said in a statement, by way of correcting Trump. The president may not have set out to annoy or offend the British or the Germans, but his disregard for precision and essential accuracy is catching up to him.
The shiny story: Cue the liberal anger, along with the ads that are already accusing Judge Neil Gorsuch of refusing to say where he stands on key issues, even before he's had a chance not to answer those questions. Nothing gets bases revved up quite like a Supreme Court confirmation hearing, and that means liberals will energize against its own to demand a filibuster to block Gorsuch from the high court. This will mean a rare (for the Trump era) public airing of internal Democratic grievances, a reminder that, yes, the Democratic Party emerged from the election angry and divided on tactics and strategies. But this is not the big dance. It's a major conference tournament. So much of what happens in the Senate Judiciary Committee won't be about Gorsuch but about the person who queues up behind him as the next nominee, the one who might tip the ideology of the court.
TLDR: Weeks don't get bigger than this: FBI Director James Comey testifies, Neil Gorsuch gets his Supreme Court hearings and the health care bill is scheduled for its first House vote.
Photo of the day: Sunday on Air Force One, the president introduced the press to Patriots Owner Robert Kraft. But he also had meetings on North Korea while in Florida at Mar-a-Lago this weekend. He told reporters North Korean leader Kim Jong Un is "acting very, very badly. I will tell you he is acting very badly."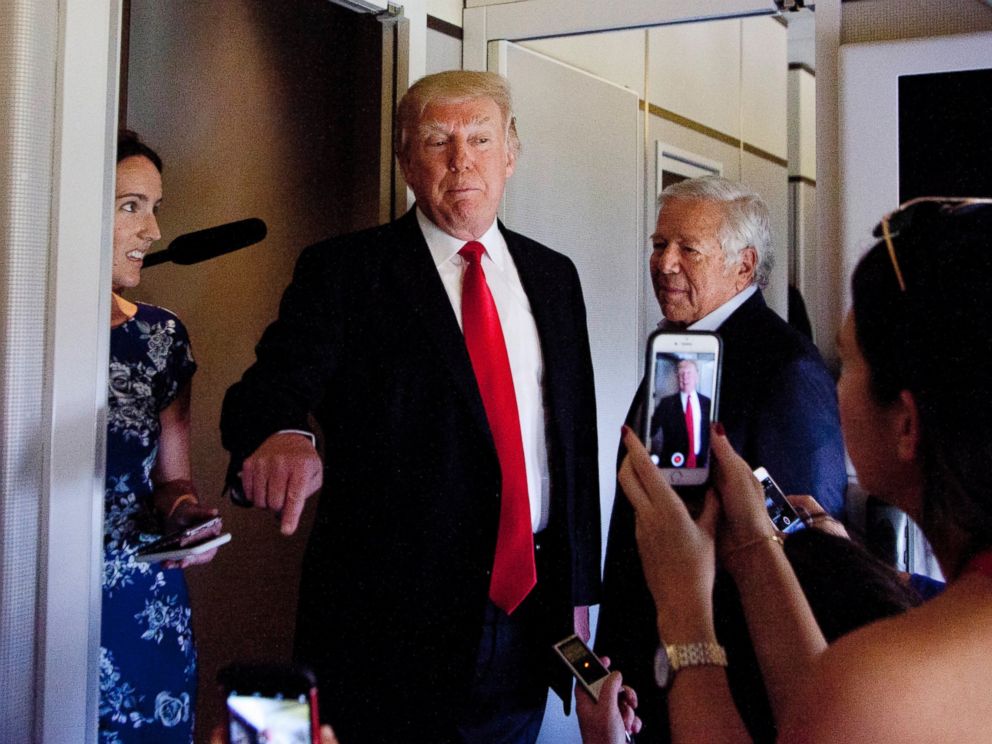 Notables
FBI director expected to undercut Trump claims to wiretapping. Within the first minutes of a much-anticipated House hearing Monday, FBI Director James Comey is expected to officially undercut the wiretapping allegations that have been promoted by the White House for more than two weeks, according to sources familiar with Comey's thinking. Comey's expected comments to the House Intelligence Committee will mark the U.S. law enforcement community's first public response to President Donald Trump's continuing insistence that the Obama administration "wiretapped" or otherwise conducted surveillance of Trump's presidential campaign, ABC's MIKE LEVINE reports. But the hearing Monday is about much more than the unfounded accusations first lodged on Twitter –- its main purpose is to look at how Russia interfered with last year's presidential election, and to understand FBI inquiries into whether any U.S. citizens helped the Russian government. http://abcn.ws/2npGkJw
Neil Gorsuch facing 'rigorous' confirmation hearings this week. President Donald Trump's nominee to replace Justice Antonin Scalia on the Supreme Court, Judge Neil Gorsuch, begins his confirmation hearings before the Senate Judiciary Committee today. Gorsuch, 49, is a judge on the 10th Circuit Court of Appeals in Denver. Like Scalia -- who died at the age of 79 in February 2016 -- Gorsuch is a textualist and an originalist. And his views, background and legal writings will be publicly scrutinized over the course of the week. ABC's AUDREY TAYLOR has more: http://abcn.ws/2mLxuSV
Trump approval rating sinks to new low. President Trump's approval rating has fallen to 37 percent -- the lowest of his fledgling presidency, according to Gallup. His disapproval rating rose correspondingly, hitting 58 percent, ABC's ERIN DOOLEY notes. In fact, Trump's current approval rating is lower than any other commander-in-chief at this point in his first term since Gallup started tracking the issue in 1945, the year Harry Truman took office. http://abcn.ws/2mKcNXy
This morning's Trump tweets
6:35 AM: James Clapper and others stated that there is no evidence Potus colluded with Russia. This story is FAKE NEWS and everyone knows it!
6:49 AM: The Democrats made up and pushed the Russian story as an excuse for running a terrible campaign. Big advantage in Electoral College & lost!
7:02 AM: The real story that Congress, the FBI and all others should be looking into is the leaking of Classified information. Must find leaker now!
Speed read with ABC's Adam Kelsey
Trump expected to pick Kellyanne Conway's husband for key Justice Department role. President Donald Trump is expected to name attorney George Conway, the husband of White House counselor Kellyanne Conway, to lead the Department of Justice's Civil Division, senior sources tell ABC News. The appointment would require Senate confirmation. The news was first reported by The Wall Street Journal. If confirmed, Conway would be responsible for leading a division in charge of enforcing laws preventing discrimination, note ABC's CECILIA VEGA, KATHERINE FAULDERS and JOHN SANTUCCI. http://abcn.ws/2mJsfmN
'It never hurts to say you're sorry,' a GOP House member advises Trump. A key House Intelligence Committee member said he has seen no evidence to support President Trump's claim of former President Obama wiretapping Trump Tower and offered that Trump may want to consider some favorite advice by the congressman's father, ABC's ALI DUKAKIS notes. "To quote my 85-year-old father ... 'It never hurts to say you're sorry,'" Rep. Will Hurd, R-Texas, said on "This Week" on Sunday. Hurd, a former CIA agent, said the unsubstantiated wiretapping claims "take away from the rest of [President Trump's] agenda." http://abcn.ws/2mXlvTh
HHS SECRETARY SAYS PASSING HEALTH CARE BILL THROUGH HOUSE AND SENATE 'A FINE NEEDLE' TO BE THREAD. Health and Human Services Secretary Tom Price acknowledged that passing the White House backed health care bill through both houses of Congress is going to be tricky, but said he is confident that the GOP plan to repeal and replace Obamacare will move forward. "So everything you do to get votes in the House, is going to cost you votes in the Senate, isn't it?" ABC News Chief Anchor George Stephanopoulos pressed Price. "Well it's a fine needle that needs to be thread. There's no doubt about it," Price responded, acknowledging changes made to the bill to win over conservatives could scare off moderate Republicans. ABC's NICKI ROSSOLL has more: http://abcn.ws/2non7bn
Rand Paul says GOP health care bill unlikely to pass in Congress. Republican Sen. Rand Paul said the House GOP health care bill is unlikely to pass in Congress because there are "enough conservatives that don't want 'Obamacare lite.'" The Kentucky senator told ABC's GEORGE STEPHANOPOULOS on "This Week" Sunday that the Republican-led Congress should repeal Obamacare in its entirety. He says the current bill doesn't go far enough. "They're going to repeal part of it and leave in place all of the stuff that causes your insurance rates to go through the roof," Paul said. ABC's QUINN SCANLAN has more: http://abcn.ws/2noD1m0
VP Mike Pence calls on conservatives to support GOP health care bill. Ahead of a key vote on Capitol Hill, Vice President Mike Pence called on skeptical Republicans to get behind the GOP health care bill in remarks to conservative donors and members of Congress Saturday night. Speaking at the Club for Growth's dinner at the Breakers Resort in Palm Beach, Florida, Pence said the new Republican plan represented "the kinds of solutions conservatives have been talking about for years," and promised to work with lawmakers to improve the legislation, explains ABC's BENJAMIN SIEGEL. http://abcn.ws/2n9Yb6Z
Fact-checking Trump's tweets: Does Germany owe NATO 'vast sums of money'? President Trump took to Twitter Sunday morning from Mar-a-Lago, his Florida estate, slamming media's characterization of his meeting with German Chancellor Angela Merkel and claiming Germany "owes vast sums of money to NATO." But according to a former U.S. ambassador to NATO, the president's statements are misleading. "There is no ledger sheet that shows Germany in the red," Doug Lute, who served as ambassador under former President Obama from 2013 to 2017, told ABC News. "That's not how it works in NATO." ABC's JUSTIN FISHEL and ERIN DOOLEY have more: http://abcn.ws/2n1NpiK
Man who drove up to checkpoint near White House arrested for alleged false bomb threat. A man arrested after driving up to a Secret Service checkpoint near the White House on Saturday night has been identified by police as Sean Patrick Keoughan, 29, of Roanoke, Virginia. The suspect allegedly pulled up to a vehicle-entry post near the White House late Saturday night in a 2017 Chevrolet Impala with an Indiana registration and told a police officer, "There's a bomb in the trunk," write ABC's JACK DATE and DAVID CAPLAN. http://abcn.ws/2nRenH9
A timeline of Trump's unsubstantiated wiretapping claims. The White House is standing by President Trump's assertions that former President Obama ordered a wiretap of his phones, even as others -- Democrats and Republicans alike -- have said there is no proof. But the president believes he will, ultimately, be vindicated. ABC's VERONICA STRACQUALURSI and ADAM KELSEY have a timeline of Trump's unsubstantiated claims, what other officials have said and how the White House has responded: http://abcn.ws/2mG0cEW
WHO'S TWEETING?
@PeterAlexander: NEW: Panetta on wiretapping: "The time has come for the president to accept the responsibility that he made a mistake... he should move on."
@PostRoz: .@WhiteHouse installs political aides at Cabinet agencies to be Trump's eyes and ears http://wapo.st/2nTsWtL?tid=ss_tw … via @Reinlwapo @eilperin
@rickklein: "this is probably the smoothest operation the Trump White House has launched," @TerryMoran says of #Gorsuch #SCOTUS hearings @GMA
@PhilipRucker: .@costareports & I checked in with 18 top Trump sources, who detailed tensions between NY biz crowd & Bannon/Reince https://www.washingtonpost.com/politics/inside-trumps-white-house-new-york-moderates-spark-infighting-and-suspicion/2017/03/18/51e3c4d2-0b1c-11e7-a15f-a58d4a988474_story.html?utm_term=.34416e45ce71
@Olivianuzzi: I spent 49 days getting to know Kellyanne Conway. This is the 8,000 word result, @NYMag's latest cover story: http://nymag.com/daily/intelligencer/2017/03/kellyanne-conway-trumps-first-lady.html