A photo of a black woman in a flowing dress, standing alone calmly while facing heavily-armed police officers -- one of whom she appears to be holding hands with -- has taken the internet by storm. The moment occurred during Baton Rouge protests on Sunday, July 10th, over the shooting death of Alton Sterling.
Interested in
Police Shootings?
Add Police Shootings as an interest to stay up to date on the latest Police Shootings news, video, and analysis from ABC News.
The mysterious woman was identified as Ieshia Evans by friends after New York Daily News writer Shaun King shared the photo on his Facebook and later by arrest records.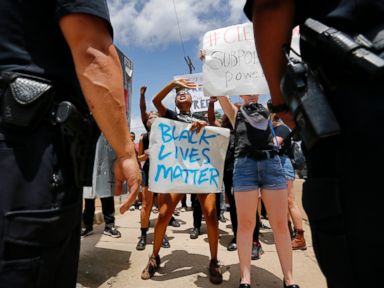 Evans did not immediately respond to ABC News request for comment but shared on her Facebook page, "I just need you people to know. I appreciate the well wishes and love, but this is the work of God. I am a vessel!"
She went on to add, "I'm glad I'm alive and safe. And that there were no casualties that I have witnessed first hand."
The photo was taken during the protest in Baton Rouge, which resulted in more than 100 arrests, mostly for obstruction of a highway, according to documents obtained by local ABC News affiliate WBRZ-TV in Baton Rouge.
According to those documents, an "Ieisha Evans" was booked into parish prison for obstruction of a highway.
The photograph has gone viral, with the name IeshiaEvans and a misspelling, LeshiaEvans, both becoming trending hashtags on Twitter as the internet scrambles to identify the woman.
One Twitter user equated the graceful stance to the Statue of Liberty.